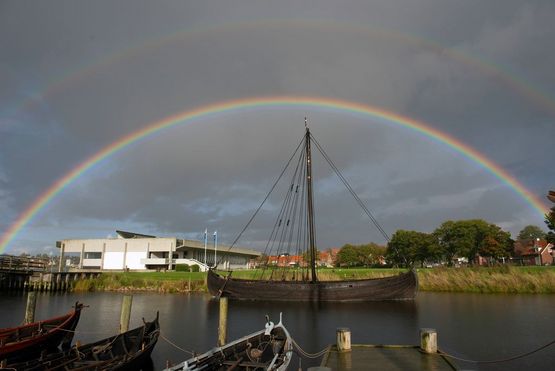 Welcome back to the Viking Ship Museum
It is with great pleasure that we can welcome you back to the Viking Ship Museum
Visiting the Viking Ship Museum for all guests must be safe and secure.
That is why we have prepared the museum and museum staff to welcome guests in a way that prevents the spread of infection - and we have reviewed and reorganized our activities according to new guidelines.
Plenty of room in the large Viking Ship Hall
The five original Viking ships can now be experienced again in the large Viking ship's hall. The exhibition is unidirectional, to ensure a good audience flow with a good distance between all guests.
The exhibition 'In the wake of the Vikings' in the lower floor is also open.
Outdoor exhibitions and experiences
In addition to the Viking Ship Hall, the Viking Ship Museum has large outdoor areas and we will be designing new exhibition and experience areas prior to the school summer holidays so that there is still plenty to experience indoors and not least outdoors.
At the shipyard, the boatbuilders build a Viking ship and you can meet the craftsman who tells and shows how we recreate the Viking ships.

We have also arranged a special experience area and you can immerse yourself in the outdoor exhibitions on ships and crafts.

The guidedtours of the Vikings' ships will be conducted outdoors.
Check the calendar for times.
Embark on the World's longest Viking ship reconstruction
The museum's large boat collection is located in the museum harbor and there are signs telling you about each ship so you can explore the many Nordic boat types yourself.
You are welcomed aboard the 30-meter-long Viking ship 'Sea Stallion from Glendalough', which lies by a unidirectional bridge in the inner harbor.
Café lunch and barbecue evenings
You can enjoy a delicious lunch in Café Knarr on the Museum Island, both inside and outside, and we have created a special to-go menu, if you prefer to bring your food on a picnic.
Friday, Saturday ad Sunday nights we light up the grill and offer a delicious barbecue menu.
Sailing trips
In order to take good care of our guests, we provide good space in the boats. There will be a 2 meters distance between the participants and therefore there will only be space for 9 people in each boat. If you visit the museum in a group, and if you are so close acquaintanceses or family that you do not normally keep distance betweenyou, you can be up to 15 people in a boat.
Oars, rails, seats, life jackets, etc. are washed off between each sailing, and a distance of 2 meters is kept between everyone on board during the entire sailing trip. Unfortunately this means that our employees cannot offer physical assistance with boarding, rowing, etc., and we do not have the opportunity to set sail. Unfortunately, we cannot offer special conditions for people with disabilities: You have to be able to row yourself, and because of the distance requirement, our staff is unable to help guests board the boat.

We hope for your understanding and that you will help us by showing consideration and taking care of each other.

We look forward to seeing you at the Viking Ship Museum
Information to our guests about Covid-19 virus
The Viking Ship Museum is open
Facts about Hygiene, distance and assembly
The Viking Ship Museum follows the Ministry of Culture's guidelines for reopening museums, just as the health authorities' recommendations on distance, hygiene and assemblies are always observed.
This is applicable in audience areas as well as in employee areas.
Hand hygiene
Hand-held stations are set up throughout the museum area, at the entrance to buildings, at the outdoor experience areas, at pay stations and toilets, so everyone can easily wash and / or shake hands.
The stations are marked on the map of the museum, which is handed out by ticket purchase.
Cleaning
Cleaning on the museum's toilets has increased, and on all toilets there is a cleaning log that shows when the toilet was last cleaned.
Payment by card - no cash, please!
At all the payment stations in the ticket sales, the shop and Café Knarr there is a set up with plexiglass and we encourage all guests to pay by credit card or Mobile Pay.
Corona Care hosts
To ensure that all hygiene and spacing requirements are maintained in all areas of the museum - both inside and outside - the museum has appointed special CoronaCare hosts to provide frequent cleaning of touch surfaces such as handles, handrails, light switches, countertops, taps, cash registers and ATM machines.
The CoronaCare hosts ensure that there is always plenty of room for the museum's guests in the exhibition and experience areas, so that it is easy for everyone to meet the distance requirements.