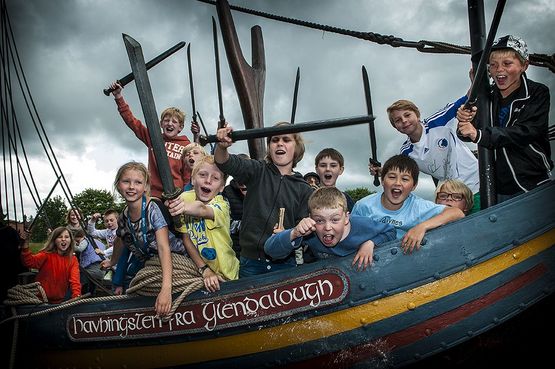 Visit the Viking Ship Museum in the late summer
In the late summer, 26th August - 11th October, there is all sorts of things going on at the Viking Ship Museum.
We offer a lot of exciting activities for the entire family.
Films about Viking Ships – Dress up like a Viking – Visit the boatyard – Build your own boat – Museum shop – New Nordic Viking Food – Scenic harbour setting with old wooden ships and Viking ships!
If you visit us in the autumn holiday from the 12th - 20th of October, you can take part in our special autumn activities.
| | | |
| --- | --- | --- |
| Late summer activities | August 26th - September 15th | September 16th - October 11th |
| Guided tours in the Viking Ship Hall GB | 12.00 & 14.00 | 12.00 & 14.00 |
| Guided family tours DK | 11.00 | 11.00 |
| The reconstructed ship DK/GB | 15.30 | 15.30 |
| Tours of the boatyard GB/DK | 13.00 | 13.00 |
| Build your own boat | 10.00 - 16.30 | 10.00 - 16.30 |
| The boatbuilders workshop | --- | 10.00 - 16.30 |
| Ask the sailor | kl. 13.00 - 15.00 | kl. 13.00 - 15.00* |
| Viking craftwork | 10.00 - 17.00 | 10 - 16** |
| Craftmans talk GB | 11.30 | --- |
| Craftmans talk DK | 14.30 | --- |
| Viking games | 10.00 - 17.00 | 10.00 - 17.00 |
* Up to and including September 30th
** Tuesday - Sunday