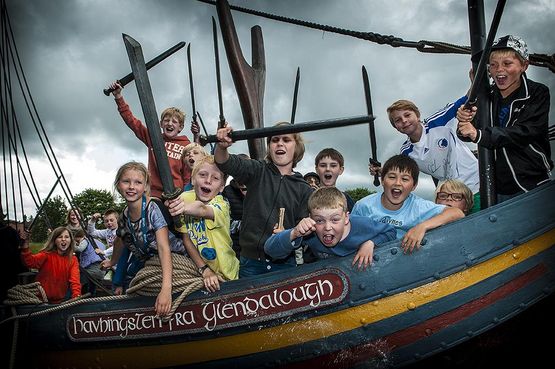 Visit the Viking Ship Museum in spring
In the spring, 1st May - 28th June, there is all sorts of things going on at the Viking Ship Museum.
We offer a lot of exciting activities for the entire family.
Experience what it was like to be a Viking on board one of the Viking Ship Museum's traditional Nordic boats, which are the direct descendents of Viking ships. Everyone on board takes part in rowing, setting the sail and other 'sailor's work'.
From 1st May to 30th September, you can sail out on Roskilde Fjord every day. There are 1 – 2 sailing trips every day of the week. During the Danish summer holiday there are 9-11 sailing trips a day. Find information on departure times at the ticket desk or by contacting the Viking Ship Museum's booking office.
Before or after the sail, you can take part in one of our many activities.
Films about Viking Ships and The Sea Stallion from Glendalough – Visit the boatyard –Activities for children – Museum shop – New Nordic Viking Food – Scenic harbour setting with old wooden ships and Viking ships!