The Sea Stallion on everybody's lips!
The Sea Stallion's summer voyage to Ireland resulted in enormous press coverage. The Viking Ship Museum's flagship has been in all the world's newspapers and electronic media.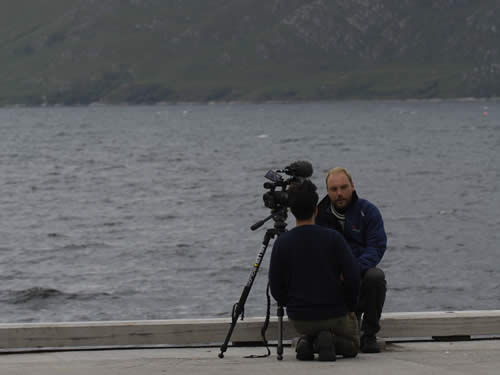 With 1500 newspaper articles and several hundred spots on TV and radio, the Viking Ship Museum's flagship really made an impact on the international media during the summer voyage from Roskilde to Dublin.
Before the departure on 1st July, a lot of the museum's staff and the Sea Stallion's crew spent time giving interviews to journalists from all over the world, and there was daily contact with the Danish and international press all the way to Dublin. Even far-off countries like Malaysia, India and Indonesia carried stories about the project and the crew gave live interviews to amongst others Australian morning radio.
When the Sea Stallion arrived in Dublin on 14th August, the Irish national TV RTE broadcast the whole event live on their website, and pictures of the ship were shown on a giant billboard in Time Square in New York.
Successful collaboration with the media
In the spring, the Viking Ship Museum entered into a number of agreements with amongst others Danmarks Radio, the BBC, and the Danish newspaper, Politiken, to come along and cover the voyage. All three media had their own web pages on the project and each told the story in their own lively and enthusiastic way.
In November (update; February 2008), the BBC will be sending a 90-minute documentary on the voyage, and we expect the broadcast will again bring the Sea Stallion to the fore as living evidence that the Viking Ship Museum's research in experimental archaeology is of international class.
And home again...
The Viking Ship Museum is now in the process of preparing next year's voyage home from Dublin. There is much to do, but fortunately the museum has gained a lot of experience that helps the planning. And although the voyage from Roskilde to Dublin was the first stage and therefore also the most interesting for the media, there will be a lot of events to report when the ship sets sail once more from Dublin Bay at the end of June 2008.