Welcome to the Viking Ship Museum
1000 years ago, the Vikings sailed along the shores of Europe, up rivers and across the open sea throughout the North Atlantic area.
Ships are the essence of the Viking Age. With them, the Scandinavian countries were founded.
The Viking Ship Museum is built around the five original Viking ships from Skuldelev. They are part of a global story about ships, people and things on voyages.
The museum tells the story of how the Vikings changed the World with their ships.
Without ships, no Viking Age.
---
News from the Viking Ship Museum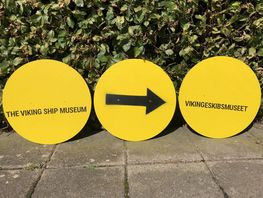 Difficult to get to the museum by car on the 2nd of July 2022
The traffic will be greatly affected when Roskilde is the starting city for the 2nd stage of the Tour de France and the Roskilde Festival ends the same day.
Therefore, we recommend taking public transport, or using the extra parking spaces around Roskilde and either strolling or cycling the last stretch.
We will put up yellow shields in the harbor area, which show the way to the Viking Ship Museum's ticket sales.
LeTourCPH, has made an interactive map where it is possible to see how the Tour de France affects traffic in Roskilde.
» Find maps and more information on LeTourCPH ...