Special exhibitions
Special exhibitions at the Viking Ship Museum are based on the Viking and their ships, but also looks outside the world of the Vikings and conveys the story of maritime culture in a bigger and more global perspective.

The museum wish to create storytelling filled with sense-based impressions. Experiences that creates curiosity, lets loose the imagination, excites with new knowledge and changes our perception of the past.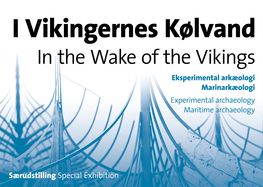 In the Wake of the Vikings
The special exhibition In the Wake of the Vikings is the story about how the five Skuldelev ships have shaped the museum to what it is today: how the remarkable find has been of crucial importance for maritime archaeology in Denmark and been the driving force behind far-reaching archaeological experiments within reconstruction and sailing.