In 2014, a collborative project began with Aarhus University, Museum of Southwest Jutland and the National Museum of Denmark, resulting in a temporary exhibition at Suzhou Museum, in China.
The project was an intergrated element of the Ministry of Culture's 'China strategy', where Museum of Southwest Jutland and Suzhou Museum had planned an education and outreach initiative, focused on Danish cultural history during the Viking Age, as part of a Museum twinning agreement.
The Viking Ship Museum was contributing to the projects by loaning:
Eik Sande, a reconstruction of the large Gokstad boat
A copy of the stem from Skuldelev 3
A dragon-head from the reconstructed longship, Helge Ask
The ship's vane from Sea Stallion
A Hedeby coin, dating from 825 - 830 AD
The exhibition at Suzhou Museum was shown from 28. March - 28. June 2015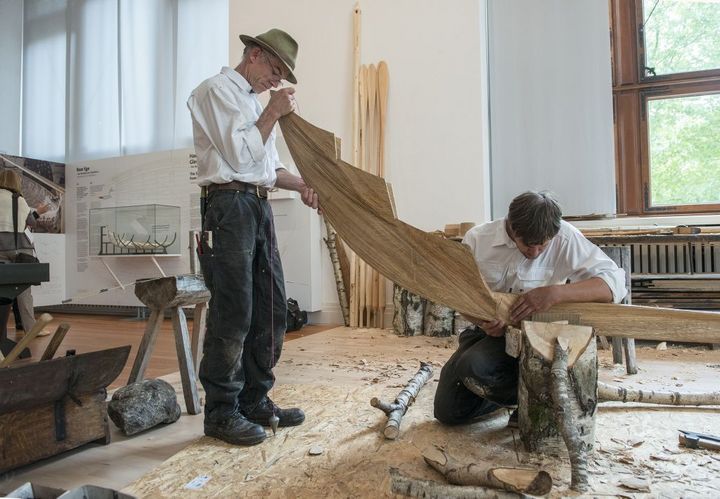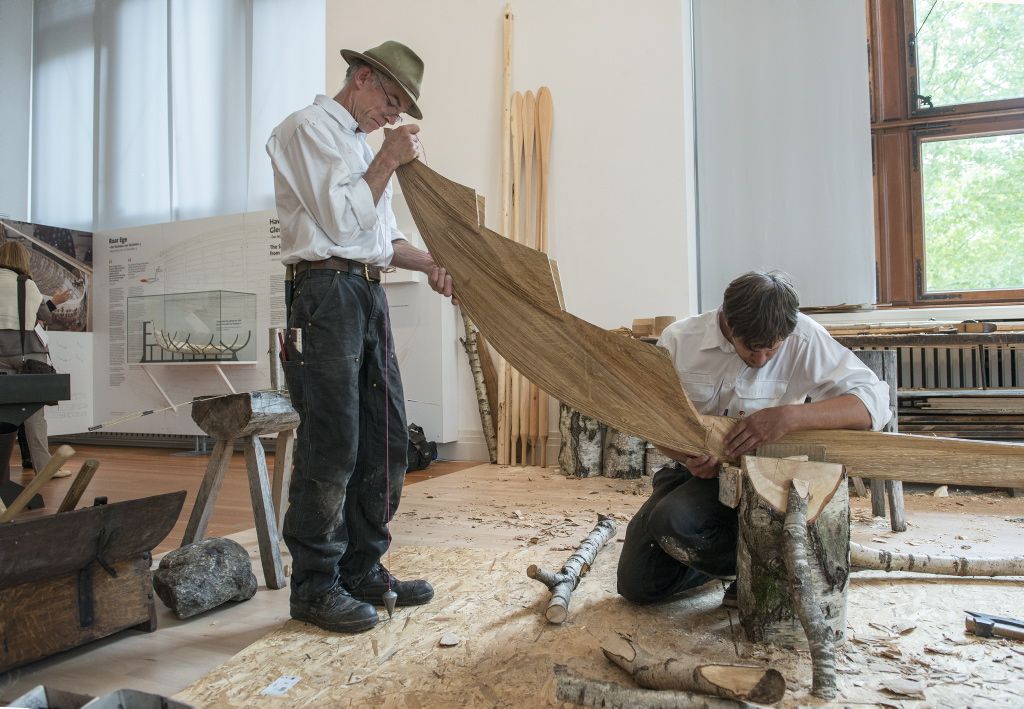 On September 9th, 2014, Schiffe der Wikinger opened in Martin-Gropius-Bau exhibition house in Berlin. The projects came about as a result of a collaboration between the Danish Embassy in Berlin and the Museum für Vor und Frühgeschichte, who wished to include the story of Roskilde, Viking Ships and the Viking Ship Museum as an extra dimension of the large Die Wikinger exhibition, which had previously been on show in Copenhagen and London.
Schiffe der Wikinger was a German version of Heart and Soul - the Viking Ship Museum's 50th anniversary exhibition - and included an integrated boatbuilding area, where two boatbuilders worked on the reconstruction of the small Gokstad boat from 9th September - 4th January.

The Museum also loaned out Sea Stallion's original sail, which was suspended over the impressive longship, Roskilde 6, as well as a reconstruction of the Gokstad shield, which was displayed in the main exhibition, Die Wikinger.

Die Wikinger and Schiffe der Wikinger achieved great succes, with a total of 180,000 visitors.


The exhibition and boatbuilding was supported by:
Vikings/Die Wikinger 2008 - 2009
- Kunsthalle Leoben, Austria and Historisches Museum Der Pfalz Speyer, Germany

Thoroughbred of the Sea 2006 - 2008
- Exhibitions in Ireland and Great Britain

Irish National Heritage Park 2004 - 2006
- Activitetes

Tasmanian Wooden Boat Festival 2004 - 2005
Vikings 2003 - 2006
- Australian Maritime Museum and Auckland Museum

L'Europe des Vikings 2003 - 2004
- Abbaye Daoulas, France

Info Point Europe 2002
- Antwerpen, The Netherlands

North American wildlife and native people 2002
- Wiesbaden, Germany

Life and times of Vikings 2001
- Vancouver Maritime Museum, British Columbia

Expo 98, Lisbon