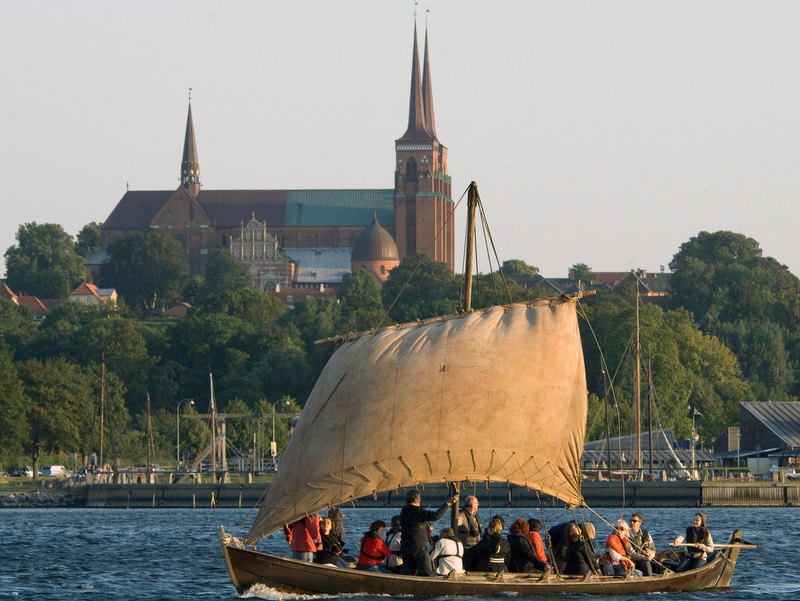 Spring at the Viking Ship Museum
From the 1st of May to 24th of June 2022, the Viking Ship Museum offers a lot of exciting activities and experiences on land and water for the whole family....And when the school holidays start, there will be even more things to experience and take part in during the summer.
Historically good experiences
The Museum is the only place in the world where you can experience seeing 1000-year-old Viking ships, and then go directly out to the Museum harbor, where the full-scale reconstructed Viking ships lie moored at the quayside. The Viking Ship Museum invites its guests to take part in unique sailing trips with either Viking ships or traditional Nordic Clinkerbuilt boats, which are the descendants of the Vikings' ships.
The boatyard is the heart of the Museum Island
Visit the Boatyard at the Museum Island where our boat builders are reconstructing Viking ships and other traditional wooden boats. The smell of fresh wood tar fills the air and the sound of the boat builder's axe against the oak tree echoes rhythmically across the boatyard.
The Viking Ship Hall is the buzz of history
The Viking Ship Museum is built around the almost 1000-year-old Viking ships, which are exhibited in the large Viking Ship Hall with the fjord as a direct background – a most spectacular view.
New Nordic Viking Food
When hunger strikes, we have lunch areas both indoor and outdoor. You can also choose to enjoy a delicious lunch prepared according to the principles of New Nordic Viking Food in Café Knarr, or perhaps just a good cup of coffee and cake or cold drinks while enjoying the view and the environment on the museum island.
Welcome to historically good experiences!
Read more about all that awaits you at the Viking Ship Museum below.