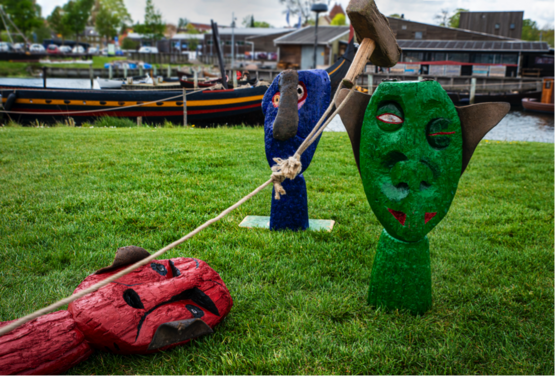 Teambuildning or a fun break
In the Viking era, people challenged each other to various jousts and games, and both children and adults can join in the Viking Games or play Kubb on the lawn in front of the museum.
Viking games
During the summer season (May-Sept) groups can challenge each other in "Throwing Thor's hammer", making "Foursquare", "Go to Iceland for herring" and much more on the lawn in front of the museum.
Kubb
The game is believed to have roots back in the Middle Ages and can be played with 2 to 12 participants.
The game consists of 1 king, 5 cubes per team and 6 throwing sticks. The came consists of three rounds.
Practical informations

Price Viking Games:
1,900 DKK per group incl. instructor + admission to the museum perperson.

Duration: 1 hour.

Participants Viking Games:
Up to 28 people.

Participants Kubb:
Up to 12.

Price for rental of Viking Games or Kubb:
650 DKK per day

Book:
Minimum 4 weeks in advance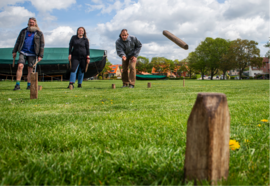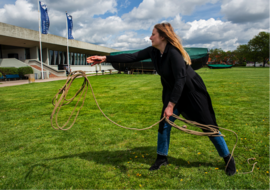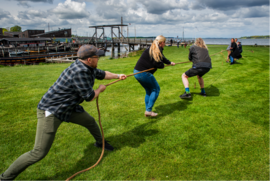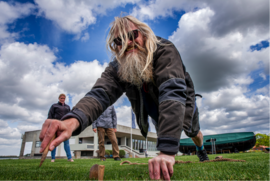 Do you want to join in the Viking games?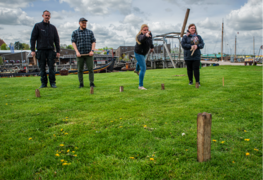 Do you want to challenge each other to various games, and gain insight into the functions of the games and jousts in the Viking Age?
Contact the booking for more information.