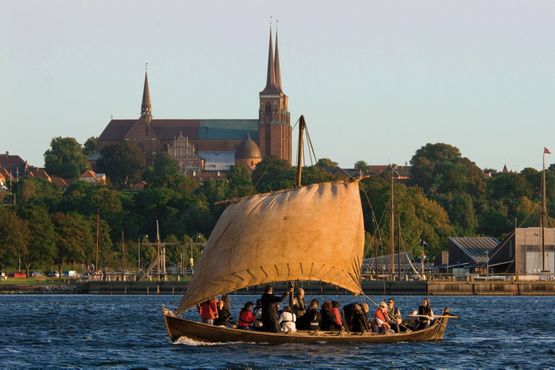 Group sailing trips on Roskilde Fjord
Experience how it was to be on board a Viking Ship!
The Viking Ship Museum offers exclusive sailing trips for groups from 1 May to 30 September.
You sail in the Viking Ship Museum's traditional Nordic boats or reconstructed Viking Ships, where oars and sail are the only means of propulsion. You come close to the water, close to the Viking Age and create memories that last!
It is easy to see that the traditional Nordic boats are closely related to Viking ships. The largest, with room for 6 to 12 guests, has a square sail like a Viking ship. The smaller boats, with room for 8 guests, have traditional Faroese sails.
About the trips
There are three lengths on the trips, 1 time, 1 hour and 20 min., or 1 hour and 50 min.
The trips are including instruction in rowing and allocation of life jackets. An experienced sailing instructor leads every sailing trip. Guests are the crew onboard and play an active part in rowing and setting the sail.
The life jacket must be worn during the entire boat trip.
Eat lunch by the water's edge
It is possible to book extended trips on the fjord, where groups can go ashore to eat lunch or drink coffee. Café Knarr provide exciting picnic hampers with food based on the New Nordic Viking Food concept, where the individual dishes are prepared using ingredients known from the Viking Age and which tell a story about the Viking Age.
Alcohol: In order not to affect safety on board, we only allow the consumption of a single item of alcohol during the event.
Information:
Booking: Group sailing trip in traditionel, Nordic boat
The trip is booked by contacting the Viking Ship Museum's Booking, whom is happy to answer questions and helps arranging the sailing trip.

Admission to the Exhibition Hall during the Museum's ordinary opening hours 10:00 - 17:00 is included for the group, when booking a sailing trip.

Price per adult:
315 DKK for 1 hour
350 DKK for 1 hour and 20 min.
385 DKK for 1 hour and 50 min.
+ 75 DKK per additional hour

Price per child:
200 DKK for 1 hour
235 DKK for 1 hour and 20 min.
270 DKK for 1 hour and 50 min.
+ 75 DKK per additional hour

Additional fee for sailing on weekends:
From 20 DKK per person on Saturdays
From 35 DKK per person on Sundays
+ fee per person per additional hour: From 10 DKK

Contact the booking for more information.

Number of participants:
From 4 adults (with a charge for a minimum of 8 adults) to over 100.

Limited number of places for children:
Children must be at least 4 years old to participate.
The Viking Ship Museum's School Service also organises sailing trips for schools and other children's organisations.

Weather:
The route taken on the trip is determined by the wind, the weather and the ability of the crew. Always bring suitably warm and waterproof clothing. Remember that it is always colder at sea than on land, especially in windy weather.