News from the Viking Ship Museum
The Viking Ship Museum writes news about current topics we work with at the museum.
Here you can find stories about the boatbuilders' new building projects at the boatyard, the marine archaeologists' excavations and research results as well as information on current exhibitions and activities.
News from is archived by year and can be found by searching in the search box or clicking on the current year in the list under archived news.
6. november 2015 blev konferencen Museum 2030 afholdt på Vikingeskibsmuseet. Konferencen tog udgangspunkt i…
Vikingeskibsmuseets marinarkæologer er på land for vinteren efter en travl dykkersæson. Helt særligt er…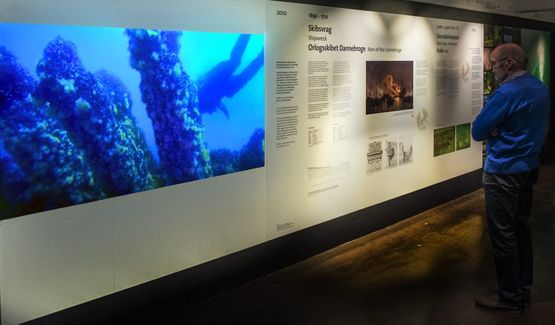 In the Wake of the Vikings - Special exhibition
The special exhibition 'In the Wake of the Vikings' is the story about how the five Skuldelev ships have shaped the…
Read more
Maritime archaeologists from the Viking Ship Museum in Roskilde have found an 8,000 year old settlement under 5m of…
Se med, når marinarkæologen Mikkel Thomsen undersøger et ny fundet kølsvin.
En delegation af medlemmer fra Folketingets kulturudvalg besøgte Vikingeskibsmuseet en onsdag i maj, for at høre om…
Genuine sailing experience in a traditional, Nordic boat with oars, sail - and with the scent of wood tar in the…