Department of Maritime Archaeology, Research and Exhibitions
The department consists of three teams. The Maritime Archaeology team manages and investigates the cultural heritage of the Danish territorial waters east of Great Belt. In addition, this team runs the national maritime archaeological archives, Det Marine Arkiv.
The Research team works with the museum's research projects and collaborates internationally with universities, teaching students and advising PhD-stipendiates. The Research team takes also care of the museum's publication and library services.
The Exhibitions team plans and designs all exhibitions and special arrangements. The museum's photographer and graphic designer as well as the picture library and the museum archives are connected to the Exhibitions team.
Maritime Archaeology team
Morten Ravn
Curator, PhD
Research coordinator
Head of publications, Library and Maritime archives
T: +45 51 20 21 17
E: mr(at)vikingeskibsmuseet.dk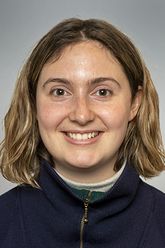 Clara Skov Mølgaard
Intern from RUC
Communication and performancedesign