News from the Viking Ship Museum
The Viking Ship Museum writes news about current topics we work with at the museum.
Here you can find stories about the boatbuilders' new building projects at the boatyard, the marine archaeologists' excavations and research results as well as information on current exhibitions and activities.
News from is archived by year and can be found by searching in the search box or clicking on the current year in the list under archived news.
During the summer you can feel, touch, smell and try your hand at different crafts. There are plenty of experiences…
The call for submission of papers to the conference is now open.
Looking for a climate-friendly Christmas gift? Look no further. The dates for the full-day courses of 2020 has now…
May 14 -16 2020, the Viking Ship Museum is hosting the fourth Nordic conference for maritime archeology. The…
By uniting traditional boatbuilding and open source digital media, the Gislinge Boat Open Source Project has…
This summer, a unique voyage will shed new light on pivotal questions concerning the Scandinavians who, 1,000 years…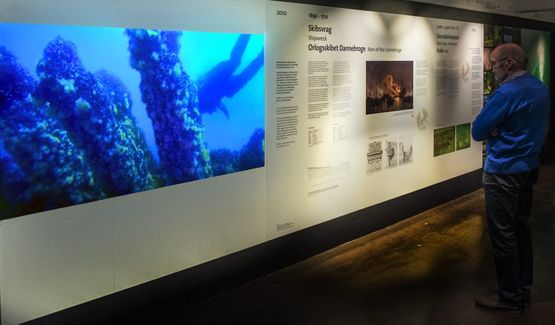 In the Wake of the Vikings - Special exhibition
The special exhibition 'In the Wake of the Vikings' is the story about how the five Skuldelev ships have shaped the…
Read more
Maritime archaeologists from the Viking Ship Museum in Roskilde have found an 8,000 year old settlement under 5m of…
2013: Maritime Networks and Urbanism in the Early Medieval World
The two-day conference, held 11-12 April 2013 at the Viking Ship Museum, convened an international research forum…
Read more
11.-12. April 2013 a two-day conference held at the Viking Ship Museum, convened an international research forum to…