Foundation donates DKK 2m to the Sea Stallion - again!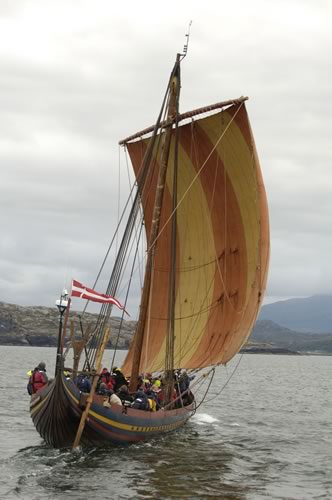 The Viking Ship Museum and the Sea Stallion from Glendalough benefit once more from the Shipowner Carsten Brebøl Foundation. We have almost reached our target!
Last year the Museum received the first 2 million and the money really made a difference to the historically rainy but very successful voyage from Roskilde to Dublin. This summer, the Sea Stallion is sailing home to Roskilde.
"The planning for this summer's voyage is going on right now at the Museum and in 14 days' time the final crew will have been chosen. Step by step the project is nearing the moment when the starting whistle will blow. And when the full 60-member crew is once more on board the Sea Stallion and start rowing out of Dublin on 29 June, the final leg of the Viking Ship Museum's biggest gamble so far will begin.
The project, which the Museum calls "Thoroughbred of the Sea", has already cost several million, so a donation totalling 4 million is an enormous help for a museum already under economic pressure, explains the Viking Ship Museum's Director Tinna Damgård-Sørensen. And she goes on: "We still have a lot of funds to raise if we are to fulfil our own ambitions for the project and the voyage, so the wonderful donation from the Shipowner Carsten Brebøl Foundation will not make us stop fund-raising – it just gives us all tremendous motivation to make more efforts to find the rest of the money. We know it's out there somewhere!
"The Sea Stallion caught the attention of the trustees of the foundation for the first time when it sailed round the Skagerrak in 2006. This gave the ship maximum publicity in Denmark, Sweden and Norway, and it was also the decisive test of the ship and crew before the voyage to Dublin last year.
The project "Thoroughbred of the Sea" is fully in the spirit of the foundation. "One of our basic aims is to support and protect Denmark's cultural heritage, and the Sea Stallion is wonderful living evidence that our history has a lot to offer, but also a lot we can learn from", says Bent Lindgaard Hansen, who is the Chairman of the Trustees of the Shipowner Carsten Brebøl Foundation.
By: Preben Rather Sørensen