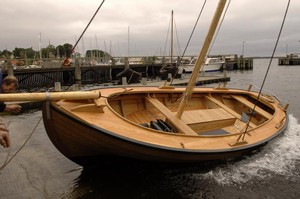 Frederikssund dinghy- a local fjord dinghy
Boatbuilders Ture M. Møller and apprentice Simon Day Larsen built a 17.3 foot Frederikssund dinghy.
The new owner provided champagne when the dinghy was delivered.
Hundreds of people have seen and followed the construction of the Frederikssund dinghy, also here where it stands all shining and new.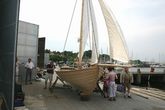 The dinghy is painted with anti-fouling paint under the waterline, with tar and oil on the exterior and with pure anti-fungal oil internally.
The gunwale is painted green using linseed oil paint.
The waterline is intentionally a little too low - it will be adjusted after the dinghy has been in the water.
Here is the finished dinghy
Two men on the oars gives room for five crew altogether.
A small 4 horsepower motor can be attached on the starboard side, at the aftermost thole pin.