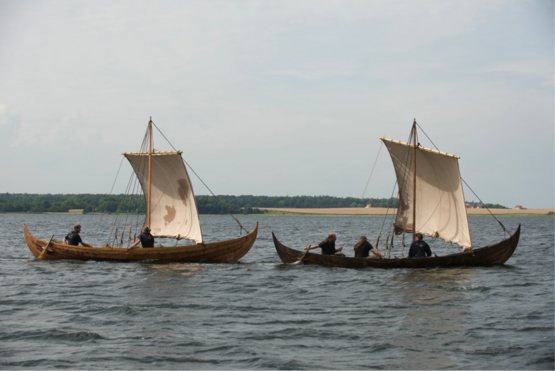 The Gislinge Boat Open Source Project
The Gislinge Boat Project is about open source boatbuilding. The project began in 2015 and was a new departure for us as a Museum. The idea was to make the boatbuilding process as open and accessible to as many people as possible. For the first time, we provided free access to working drawings for the Gislinge Boat – a 7.7m long working boat dating to 1130 AD – so that others could also have the opportunity to build their own version. In addition to making the drawings available, we also presented the entire build online, here on the Museum website, but also on Facebook and Instagram, so that we could create a virtual 'Gislinge Boat Community' for those interested in following the build.
During the winter of 2016, the Museum's ship reconstructor, Vibeke Bischoff, re-examined the documentation from the original Gislinge Boat. She discovered some details that led her to make changes to the model, which had provided the basis for the two previous reconstructions, Estrid (1995) and Gisle (2015). This revised version of the Gislinge Boat – Langóe – was built during the 2016 and launched in April 2017.
Since then, the Gislinge Boat Project has taken on a life of its own. Hundreds of people from around the globe have downloaded the drawings. Some have undertaken full-scale 1:1 reconstructions of the boat, others have used the drawings to build a model or as inspiration for a boat of their own design.
The working drawings for both Gisle and Langóe – two different interpretations of the same archaeological boat find – are still available free of charge. To download the drawings for the Gislinge Boat you just need to click on the link below, which will open a new window in your browser. You can then select and download the drawings to your own computer. The link gives access to two folders, one with the working drawings for Gisle, from 2015, and one with the revised drawings for Langóe, from 2016.
» Click here to download the drawings...
Best of luck with your own projects and keep us posted on how you get on!
We've also created a closed group on Facebook for those of you who wish to exchange ideas and news about your own Gislinge Boat projects.