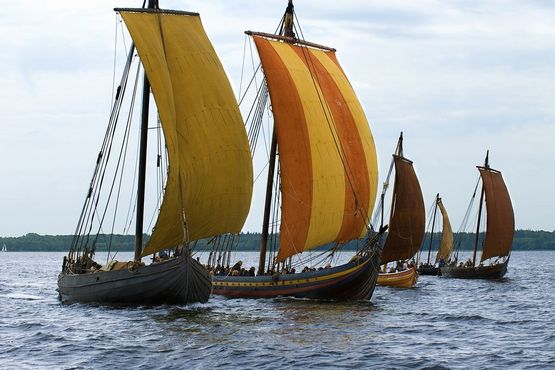 The Viking Ship Museums boat collection
The Viking Ship Museum in Roskilde is Denmark's museum for ships and shipping in prehistoric and medieval times. One of the museum's tasks is to shed light on the development of and variation in these types of vessels during the period and to show that many of the characteristics of Viking shipbuilding have survived a thousand years of development and can still be found in the Nordic boat of today.
The museum collection is based on the five Viking ships that were excavated at Skuldelev in Roskilde Fjord in 1962. With the reconstruction of these and other vessels from the Viking Age and Early Middle Ages the museum tries to bring to life these archeological finds - not just through boat yard reconstructions, but also by showing ships lying in the harbour and by taking them out to sea. Thus, during the summer season, visitors to the museum are invited to take part in trips on Roskilde Fjord under (the square) sail.
In addition to Viking ships, the museum collection includes a large number of Scandinavian fishing boats that all have their roots in the open, slender, clinker-built Viking ship. This kinship can be most clearly seen in the boats from the Faeroe Isles, from Norway and from Sweden. But also boats from Finland and the Shetland Isles are quite clearly closely related to the ships of the Vikings.
In Denmark however, ships and boats not only possessed Scandinavian characteristics, they were also subject to influences from Southwest Europe. This was particularly true of the larger vessels that plied international trade routes. They gradually became heavier in design to enable them to carry more cargo, and developments in rigging led to crews becoming smaller in number. The small boats used for fishing throughout Denmark to a larger extent retained their Viking kinship, with light, clinker-built hulls.
The boat collection still grows. At the moment it comprises some 40 different vessels, but more are being built in the Viking Ship Museum boatyard and from time to time vessels from all parts of Scandinavia are acquired. The purpose of all this work is to show that the development of boat design from around the year 1000 until now has not been so dramatic as to obscure the still visible evidence of the fact that the wooden vessels of today had Viking forefathers. It also illustrates that where hull and rigging are concerned, the Viking ship was so well conceived that changes in basic principles have simply been unnecessary for a thousand years!
The different type of boats
Reconstructed Viking ships