Traditional clinker-built fishing dinghy from Roskilde Fjord - from working boat to leisure craft.
Photos: Erik Jochumsen
Boatbuilder Ture M. Møller and apprentice Erik Jochumsen build a 15 feet Lynæs dinghy.
The keel and stem and stern are laid on the floor of the workshop, so that measurements and angles can be checked against the drawings. The knees between the keel and the stem and stern are also adjusted.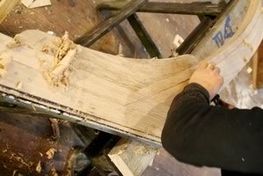 The knee is secured with a bolt.
The rabbet, where the keel planks and plank ends will lie, is marked up before the keel, stem and stern are raised.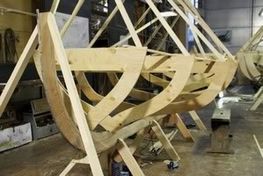 With the measurements from an old Lynæs dinghy as the starting point, Ture has made some changes to the boat's lines. Based on the owner's wishes and Ture's abilities, the form is adjusted, so that the desired sailing capabilities can be achieved.
Construction moulds are produced from the drawings and will ensure that the boat's form remains true as the planks are attached.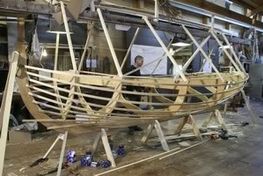 To ensure that the boat's lines run evenly, Erik and Ture install mouldings which continue up to the upper edge of the strakes.
Traditionally - in 'the old days' - boatbuilders didn't build boats using the types of moulds that we do, because each boatbuilder was so skilled in building boats for use in his local area, that he could build by eye.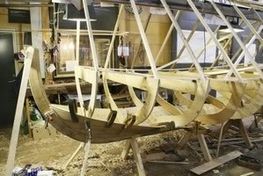 We hope, with time, to build up the same level of skill so that we too can build by eye. But we'll have to build a lot of boats first...
Here, the fourth strake is attached at the bow.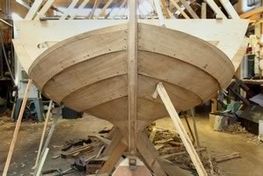 The stern on a Lynæs dinghy is very special. The uppermost strake has a rounded form and the stern is almost semi-circular.
It is a challenge for the boatbuilders to get the strakes neatly round into the stern.
Now the fifth strake is in place. The dinghy is made in 'oak on oak', i.e. oak planks on oak frames.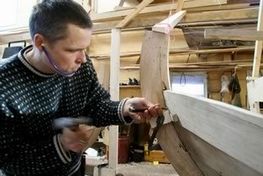 Ture attaches two of the planks to the stem using galvanised boat spikes. These spikes are also used in the frames (floor timbers and futtocks).
The boat's planks are joined together using copper nails.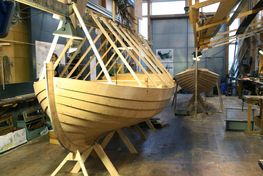 The Lynæs dinghy is now fully covered.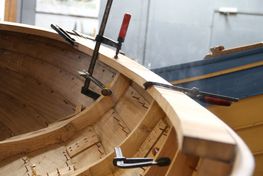 The gunwale is adjusted: this lies on top of the futtocks in the same height as the upper edge of the uppermost strake.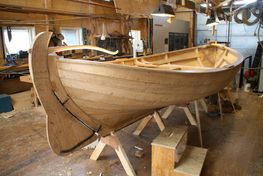 The dinghy is complete, ready to be painted.
Some few galvanised fittings still need to be mounted.