Climb aboard - an exhibition that unleashes the imagination
The exhibition takes you to the open sea where the weather changes from calm breeze to storms, thunder and high seas while the day changes from clear and bright morning to the darkest night.
Climb Aboard, the special exhibition at the Viking Ship Hall, is a story of voyaging across open sea. All that you see, hear, feel and sense with and within your body, while the day goes from clear, bright morning to an all-encompassing darkness. Changes in weather from blinding sunshine and a calm breeze, to storms, thunder and high seas. How the atmosphere shifts from boredom-induced stupor to one of dramatic energy.
A day at sea takes 10 minutes.
The entire atmosphere in the room shifts from a calm daylight to the high-energy tension of a storm - and you're on board, in the middle of nature's rage!
'Climb aboard' is part of the permanent exhibition at the Viking Ship Museum and is open to visitors every day.
Artistic light installation brings the walls to life
From the two full-sized Viking ships, there is a view of the ever-changing sea and the distant horizon.
The walls around the ships come alive through a cinematic projection that follows the rhythm of the hulls in the waves.
You can follow the sun and moon's journey across the sky. The light creates a vault of changing colours over the room, and light beams meet in a floating starry sky.
The many sounds are recorded on real voyages with the Viking ship reconstructions Havhingsten and Ottar.
Lean back and listen to the creaking of the mast, the creaking of the hull, the rustling of the wind, the skipper's commands, and the rhythmic waves beating against the ship's side.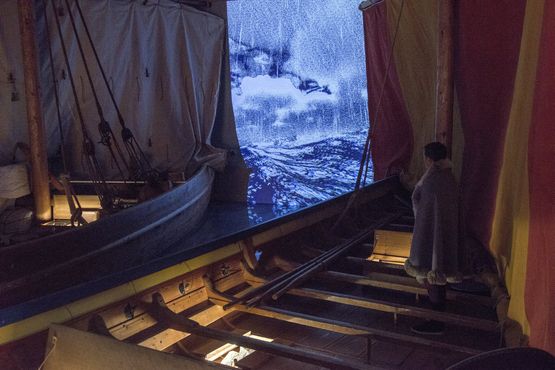 An exhibition to explore
The two ships are loaded with equipment and trade goods. Here, you can explore, lift the lid on barrels and chests, open the hatch and look below deck, take a rest in the ship's tent, or try your hand at steering the ship.
The giant set design provides space for endless tales about trade goods, sailors' equipment, and life aboard the ships during long sea voyages. On board the ships are showcases and drawers with raw materials and reconstructed archaeological finds.
The ships are equipped for trade and warfare.

On the warship, you can sense the cramped space that sailors were experiencing in the Viking Age. Lift the lid on chests with the warriors' equipment and learn more about the hierarchy on board.

On the trading ship, iron bars, slate, antlers, silk, polar bear skin, and amber bear witness to the trader's network and sailing routes.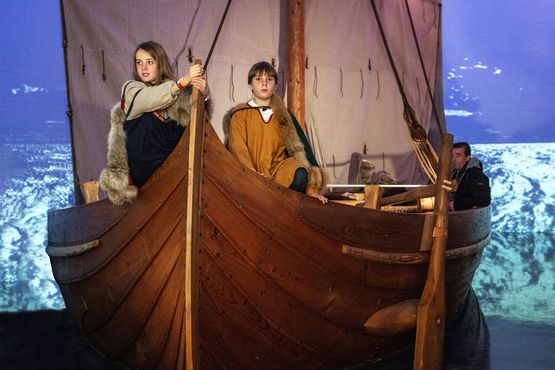 About the Special Exhibition Climb Aboard

The exhibition Climb Aboard is supported by Kraks Fond.

It is developed in collaboration between scenographer Sarah Piyannah Cederstrand, the digital design agency Yoke and the Viking Ship Museum.