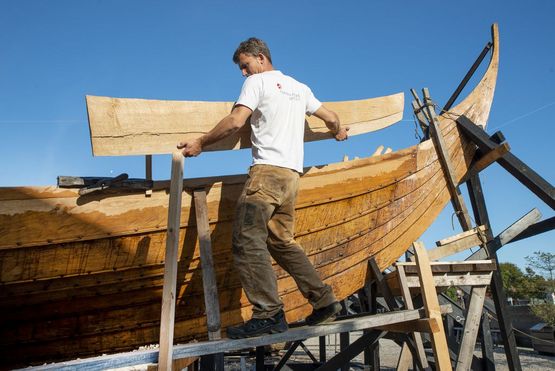 Meet the craftsmen at the boatyard
Throughout the summer and autumn, we focus on the crafts of the Viking Age, where children and adults can experience the ancient crafts being brought to life. Craft is the art of making something with his hands. To shape and create something that can be used by others to build, sail or conquer.
We have chosen to focus on the craft boat building which was indispensable for the Viking age sailors.
Boat building at the yard
In the middle of the museum lake is the boatyard. Here the boat builders build reconstructions of Viking ships and other traditional wooden boats.
The smell of fresh wood tar fills the air and the sound of the boat builder's ax against the oak tree echoes rhythmically across the yard. The experienced boat builders are working on a new Viking ship.
They use the same materials and techniques that the Vikings used 1000 years ago and build with copies of the tools found from the Viking Age. You can follow the work very closely, and the boat builders show the special techniques and are happy to tell you about the work of building Viking ships by hand.
War, battle and sharp weapons
Had you survived in the Viking Age? The Viking warrior shows off his impressive weapons and shows how to use them. Most Viking warriors were equipped with axes and shields, while the great man could have expensive weapons, such as swords, helmets and chain mail. Martial arts have been a craft that one has learned and trained to become the best warrior and thus could hope to return home to the family after the expedition.
Ships, War, and Royal Power
Is the team for the dissemination at the museum during the summer and autumn. Guided tours tell about how the Vikings built their ships, why they went on a voyage and about the power of the king. At the boatyard, the craftsmen show how they build Viking ships, and tell about the work of reconstructing a Viking ship.

Experience the beautiful craftsmanship at the boatyard every day from 10:00 - 17:00.