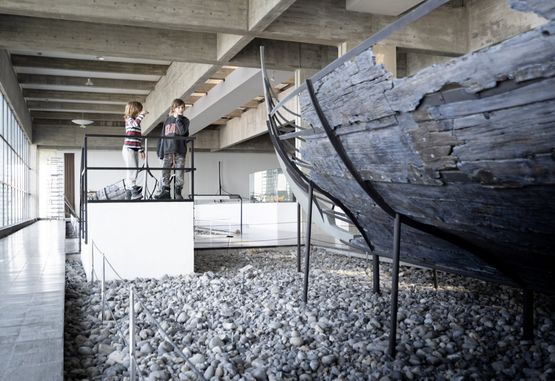 The five Skuldelev Ships
Join us for a guided tour in the Viking Ship Hall, where we focus on the five original Viking ships from Skuldelev.
The five impressive Viking ships, excavated at Skuldelev in Roskilde Fjord, bear witness to the story of how important ships were for the Viking society. Learn more about how ships were built for warfare, expeditions and trade in the Viking Age - and the museum's years of work to recreate these amazing ships.
No ships - No Viking Age
The five Viking ships together provide a diverse insight into the maritime world of the Viking Age, where the ships made it possible to reach worlds, far away from familiar shores. At seafaring's nodal points, complex new cultures, towns, networks and communities emerged.
Voyages connected coasts and brought together people of different ideas, beliefs and traditions, but also laid the foundation for enemies and possible attacks.
The way to the bottom of the Fjord
During the late Viking Age, a system of barriers are established on Roskilde Fjord, making it possible to control the sea routes to one of Denmark's great royal and ecclesiastical cities.

Three worn-out ships are towed out to the narrowest point, just outside the village of Skuldelev. The ships are filled with stones and sunk in the sailing channel Peberrenden, which is the most direct route to Roskilde. After twenty years, the barrier is reinforced with two more ships. An effective defence system is created.
The guided tours are conducted by history and archaeology students.
Their stories bring the original ships to life and put the discovery of the five Skuldelev ships in perspective in relation to the maritime culture of the Viking Age.
Guided tour in English
The guided tour is included in the admission for the Viking Ship Museum.

When: Every day
Time: At 11:00 and 13:00
Meeting point: Next to the ticket sales in the Viking Ship Hall (see map of the museum, pdf)

Groups are advised to book a private tour.