Sailing trips
1 May til 30 September - Book upcoming seasons already now
Sailing trips on Roskilde Fjord
- Climb on board!
Board a Viking ship and get up close!
The Museum is the only place in the world where you can experience seeing 1000-year-old Viking ships, and then go directly out to the Museum harbor, where the full-scale reconstructed Viking ships lie moored at the quayside. The Viking Ship Museum invites its guests to take part in unique sailing trips with either Viking ships or traditional Nordic boats, which are the descendants of the Vikings' ships. Viking ships were originally used for war, trading, fishing and transport during short every day trips or on longer voyages to foreign shores.
We go sailing on Roskilde Fjord every day with pre-booked corporate groups, school children and international group visitors. Take your family or friends with you for a special experience in an historical context, but with modern safety standards.
You buy your ticket as an addition to the entrance ticket and during the summer season timeslots are posted and updated daily on our website. Check the timeslots here.
The Museum's boat collection of reconstructed Viking ships and other traditional boat types from the North are an integral and active part of our education and outreach program. Our boat builders have built many of the boats at the boatyard and a sailing trip is the perfect way to complete your visit.
Find out more by following the links below or call our booking office. They will help you arrange the perfect event.
Sailing trips resume from May to September in 2024:

Departure times for daily sailings are published when the sailing season begins.

» Learn more about daily summer boat trips here...

Sailings for the coming sailing season can be done continuously throughout the winter.
Sailing trips for school classes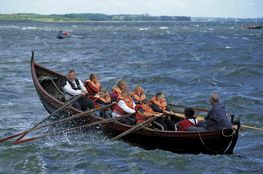 The Viking Ship Museum School Service can arrange special sailing trips with education for schools.