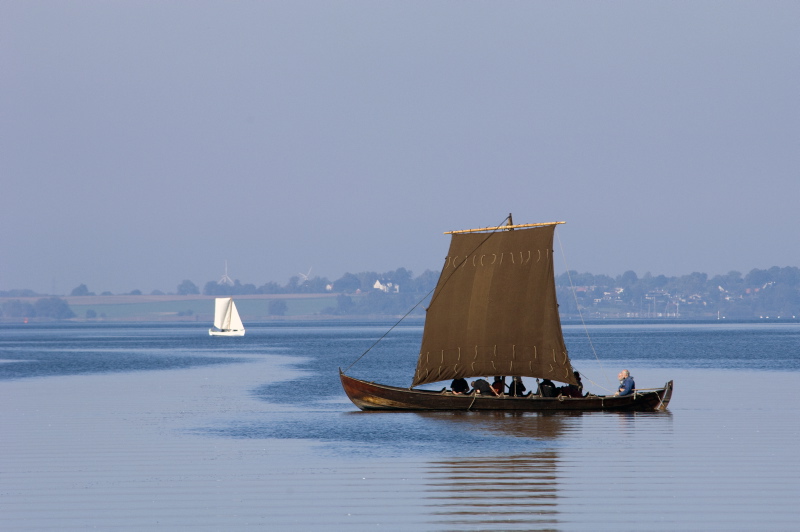 Daily summer sailing trips on Roskilde Fjord
From May 1st to september 30th
Experience what it was like to be a Viking on board one of the Viking Ship Museum's traditional Nordic boats, which are the direct descendents of Viking ships. Everyone on board takes part in rowing, setting the sail and other 'sailor's work'.
From 1st May to 30th September, you can sail out on Roskilde Fjord every day. There are 1 – 2 sailing trips every day of the week. During the Danish summer holiday there are 9-11 sailing trips a day. Find information on departure times at the ticket desk or in our calendar.
» Take a look at our calendar here..
From week 27-35 we offer an 1,5 hour-long trip in a Teinaering with room for 20 people in addition to the one-hour trip.

All departures are sold on the day at the Ticket office following the principle 'first-come'. The departure times differ.
The hour-long trip takes approx. 50 minutes and the 1,5 hour-long trip takes aprox. 80 minutes, including allocation of life jackets and an introduction to the ship and rowing technique.
Museum guests crew the boat and have to take an active part in the sailing, including rowing out of the harbour, setting the sail and perhaps also manning the rudder. Every sailing trip is lead by an experienced sailing instructor.

Price for the hour-long trip: 110 DDK in addition to the standard admission charge.
Price for the 1,5 hour-long trip: 160 DKK in addition to the standard admission charge.

Sailing tickets can be purchased at the ticket office at the Museum entrance.

Children on board: There are a limited number of places available for children (between 4 and ca. 14 years old) and others who cannot row. Unfortunately, children under the age of four cannot participate. All children must be accompanied by an adult.


We reserve the right to cancel sailing trips if there are insufficient numbers or if the weather represents a safety risk. Always bring practical and waterproof clothing.