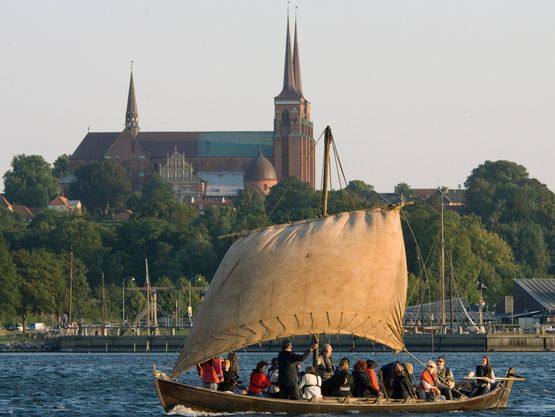 Spring at the Viking Ship Museum 2023

With the arrival of spring, the activity level on the Museum Island at the museum gradually intensifies.
Join our guided tours, meet the craftsmen at the boatyard, or go sailing on Roskilde Fjord in the Nordic clinker-built wooden boats!
Experience schoolchildren chop oak for snells (a small stick that supports the ship's thwarts, where one sits and rows) and bind bast to rope around coffee-drinking museum guests in Café Knarr.
At the boatyard, boat builders are working around the clock splitting logs and shaping stems.
In the harbour, full scale reconstructions of thousand-year-old ships from the Viking Ship Hall are moored, and traditional clinker-built ships sail in and out of the harbour with museum guests.
In the Viking Ship Hall, you can experience the sensational feeling of stepping in between the five original ships from the Viking Age.
It's almost like stepping into a scene from a thousand-year-old past, where five vastly different ships have just been pulled ashore by our ancestors.
If you're lucky, you can see the reconstructed ships sail by.
Your visit to the Viking Ship Hall ends in our permanent exhibition "Climb Aboard." Here you can explore a merchant ship and a warship and experience the changing weather staged through graphic projections and sound recordings of creaking masts, the rustling of the wind, skipper's commands, and waves breaking against the ship's side from Havhingsten and Ottar's actual expeditions.
When you feel hungry, we have picnic areas both inside and outside. You can also taste a delicious lunch prepared according to the principles of New Nordic Viking Food in Café Knarr while enjoying the view and the environment at the Museum Island.
| | | |
| --- | --- | --- |
| Guided tours in May | Weekdays | Weekends and holidays |
| Guided tours in the Viking Ship Hall GB | 11.00 & 13.00 | 11.00 |
| Guided tours in the Viking Ship Hall DK | -- | 13.00 |
| Tours of the boatyard GB/(DK) | -- | 14.30 |
| Guided family tours DK | -- | -- |
| | | |
| --- | --- | --- |
| Activities in May | Weekdays | Weekends and holidays |
| Sailing on the Fjord | See weekly timeschedule | See weekly timeschedule |
| Meet the boat builders | 10.00 - 16.00 | 10.00 - 16.00 |
| Built a boat worrkshop | -- | 10.00 - 16.00 |
| Climb aboard | 10.00 - 17.00 | 10.00 - 17.00 |
| Viking Talks | -- | -- |