Courses at the Viking Ship Museum
During the summer months at the Viking Ship Museum, we offer a range of courses that bring you closer to Viking Age craftwork and way of life. You can learn about how the Vikings caught and preserved fish, and how to sail a square-sailed Viking ship.
At the moment we only offer one course, go saling. Read more below.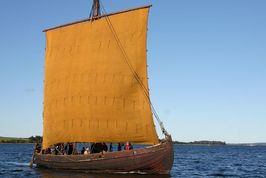 Courses: Go saling
The Viking Ship Museum offers this one-day course for those who wish to try their hand at sailing a Viking ship.
A great sailing experience awaits participants when the go on board the fishing boat Kraka Fyr or in the warship 'Helge Ask'.