Café Knarr at the Museum Island
Enjoy the atmosphere on Museumsøen and eat New Nordic Viking food in the café, which is located with a view of the shipyard and the Viking Ship Museum's many beautiful Viking ships and historic wooden boats.
Go on board the Viking culinary world
Café Knarr serves food that is prepared according to the principles of the 'New Nordic Vikingfood'. We use the raw materials which were known by the Vikings, so there is neither potatoes, tomatoes or cucumbers, but flatbread, angelica, sea buckthorn and pearl barley.
The food connects maritime history and Viking commodities and invite museum visitors to experience the five original Viking ships in new ways. At the same time the food tells the story of the world the Vikings met on their travels to distant places and the food cultures they met there.
Taste our seasonal lunch plate, salads, sandwiches, homemade cakes, hot drinks, organic must, soda and beer.
We look forward to give you a good experience in Café Knarr - you are welcome in the Café both with and without an entrance ticket to the museum.
Opening hours at Café Knarr
Every day: 10:00 - 17:00
Café Knarr is open for indoor and outdoor dining.
The kitchen closes every day at 16:30
Tasty food prepared according to the principles of 'New Nordic Viking food', where fresh seasonal ingredients are used.
Dining experiences that connect maritime history with our knowledge of meals and raw ingredients used in the Viking Age.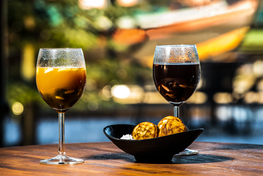 Café Knarr offers delicious warm treats
The Viking Ship Museum's Café Knarr offers delicious 'Æbleskiver' with homemade berry compote and 'Gløgg' - both with and without alcohol.

1 glass of 'Gløgg': 45 DKK
3 pcs. of 'Æbleskiver': 20 DKK
Special offer for 'Gløgg' and 'Æbleskiver': 55 DKK
'Gløgg' is mulled wine and the one served in the café is a lovely apple mulled wine with dried cranberries and almonds.

'Æbleskiver' are small, round christmas cakes - always served in pairs of 3. The name literally means "apple slices" in Danish, although apples are not usually an ingredient in present-day versions.
The crust is similar in texture to pancakes, but with a light and fluffy innard.