Films, 3D footage and photos from medieval ship
Archaeologists have excavated the newly found Kalverev ship - and it is quite rare that archaeologists have the opportunity to conduct a full underwater excavation and salvage of a ship from Denmark's past.
The ship is found in Storstrømmen (the strait between the islands of Falster and Sjælland) and is dated to about 1250-65 AD. The excavation and salvage of the many ships parts will provide the archaeologists with new information about the Nordic ship technology; from the Viking's light and elegant vessels to medieval ships, where the desire for large cargo capacity has a clear effect on the design of the ships.
On this page you can enjoy photo-series, 3D animations and underwater films.
The divers takes you on a quick trip down under the sea surface to the medieval shipwreck from Kalverev. The film was shot shortly before, the maritime archaeologists began to salvage a ship parts.
Orthophotomosaic 3D-footage
The archaeologists use a so-called Orthophotomosaic technique to produce overviews of the preserved parts of ships 'in-situ' - where they are found. Photo mosaic is formed from more than 900 still photos and can be seen as a 3D-footage here.
Photo Mosaic: Massimiliano Ditta and Matko Cvrljak. Copyright: The Viking Ship Museum in Roskilde.
Follow the diver's work on the seabed - from the time he goes in the water until he comes back an hour later!
The film was shot with the diver's helmet camera, so what you see is the footage the excavation leader sees and uses to guide the divers in the water. The sound is the communication that takes place between the diver on the bottom and excavation leader up on the deck of the support ship.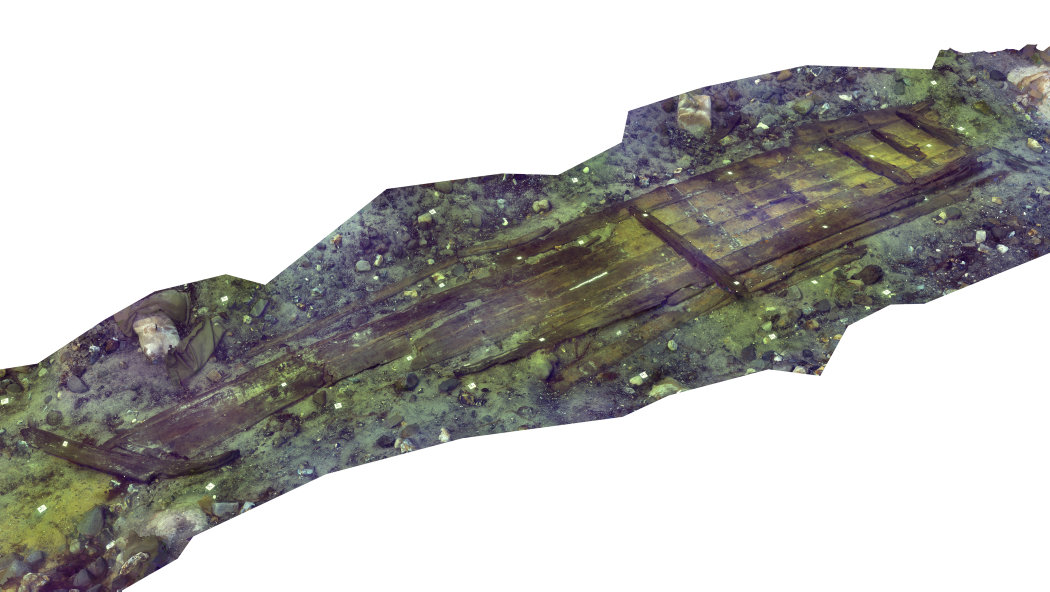 Photos of recovery of the ship parts