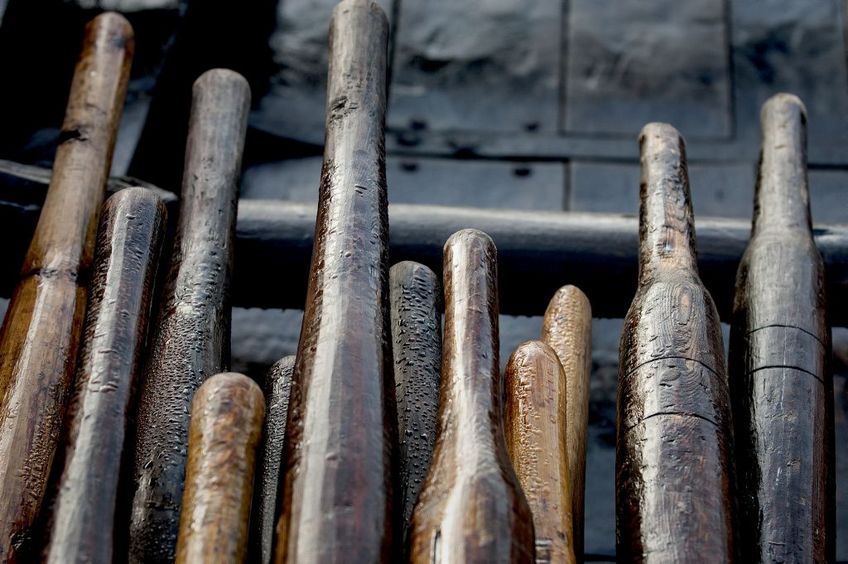 Guest researchers and PhD students
The Viking Ship Museum offers ideal conditions for guest researchers and PhD students who study maritime cultural history or aspects of museum outreach to the public. The Viking Ship Museum keeps Denmark's largest maritime archaeological archives and library. Shorter or longer durations of study at the museum can be arranged with the museum's research coordinator:
Phone number: +45 51 20 21 17
Currently, the following PhD projects are carried out in collaboration with, or in relation to, the Viking Ship Museum:
In his PhD-Project, Massimiliano Ditta from the University of Stavanger, Museum of Archaeology, aims to deliver a new standpoint for understanding the Late Iron Age period in Western Norway by exploring the relation between shipbuilding material culture and expansion, interaction, and centralisation of power.
The topography of Western Norway has always made seafaring an indispensable requirement for its population. Thus, it is not surprising that since prehistory, boats and ships were critical tools for communication, trade, and war and represented one of the most important motifs in religious symbolism. This especially holds true for the Late Iron Age (AD 550-1050) in Western Norway, where boats and ships were pivotal for forming and maintaining power centres and the Viking age's westward expansion. Although ships and boats played a significant role in Western Norway, our knowledge about ship technology is meagre. For the Late Iron Age, studies on shipbuilding in Norway are limited to a handful of ship finds from graves or bogs offering contexts such as Oseberg, Gokstad, Tune and Kvalsund. Besides these complete finds, there are several isolated or fragmentary nautical timber finds from the Late Iron Age stemming from bogs and graves, but they have received little or no attention at all.
Through detailed documentation and analysis of ship finds and fragmentary nautical timbers from bogs, graves, and other contexts in Western Norway, the relations between technology, society, and geopolitical contexts can be made visible. The objective is to investigate the hypothesis that the transformation processes and consolidation of central places during the Late Iron Age were actants in the developments and emergence of variations in the shipbuilding practice in the region.
So, in short this project aims to:
A) Investigate the full potential of an interdisciplinary approach by combining a first overview of the available material with methodological innovations in documentation and dendrochronology to achieve a novel basis for exploring shipbuilding as an integrated actor in social communities and political regionality.
B) To examine the relationship between communities of practice, identity and technology through the lenses of actor-network theory and the social embeddedness of technology.
In this PhD-project Greer Jarrett from Lund University, Department of Archaeology and Ancient History, aim to explore how Norse seafarers from the 9th to the 12th century conceived of the world/s they inhabited and propose some possible ways of reconstructing and representing these mental geographies, so as to (a) examine several salient questions about Norse culture and archaeology and (b) contribute to the development of alternative methods of archaeological representation and analysis.
Conventional representation techniques in archaeology have proven to be less than ideal for exploring the experiences, beliefs and cosmologies of past cultures, and over the last few decades a range of alternative critical methods have received scholarly attention, originating both in the rise of digital technologies and in the efforts of subaltern communities to illustrate their beliefs, histories and land claims.
Drawing on this creative diversity, Greer Jarrett aim to design a series of bespoke representations that can be used as heuristic tools for questions about Norse seafaring and Norse mental geographies. These shall take the form of maps, but shall be based on experiential factors such as movement and subjectivity that are rarely included in conventional cartography.
The data shall include both quantitative elements such as environmental conditions, sailing routes and voyage duration, but also qualitative elements such as the presence of (super)natural beings and the location of ritual/mythologised sites and landscapes. This will, hopefully, illustrate the potential of digital technologies for promoting intercultural dialogue and research, and offer an alternative window into the Norse world.
The following PhD projects have been concluded: