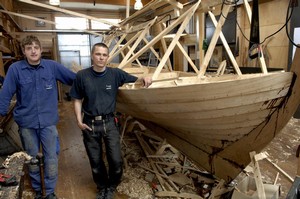 Frederikssund dinghy- a local fjord dinghy
Boatbuilder Ture M. Møller and apprentice Simon Day Larsen built a 17.3 foot Frederikssund dinghy.
Ture and Simon attach the moulds carefully to make sure that they won't shift when the planks are attached.
Ture attaches the keel planks using galvanised boat spikes.
The planks are made of oak. Kagerup Sawmills cut the material down to planks with a thickness of 14mm. Simon planes the planks by hand, so they are reduced to 1/2 inch thickness.
Ture makes a 'rie', a type of mould for the strake. This will be used when cutting out the oak planks. Using a mould ensures that there is less waste and that the materials can be utilised as effectively as possible.
Simon sets the 7th plank in place, forward on the starboard side. The oak plank has had approximately 10 minutes in the steam chest before it is set in place. The warm steam makes the oak soft and pliable.
The rabbet is first cut when the planks are to be set in place, so that it is easier to achieve the correct angle.
Simon and Ture attach the 9th end and the final plank.
Viewed from above, it's easy to see the rounded form for which the Frederikssund dinghy is known.
All the strakes are in place and Simon and Ture take a well-deserved break.