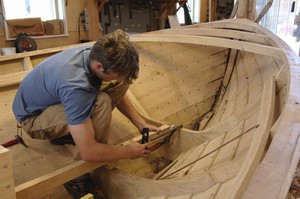 Frederikssund dinghy- a local fjord dinghy
Boatbuilder Ture M. Møller and apprentice Simon Day Larsen built a 17.3 foot Frederikssund dinghy
If the boat's sheer is incorrect, all the beautiful lines will be ruined.
This however, looks exactly as it should.
Timber for the futtocks lies ready. As with the floor timbers, they are also made from crooked oak.
Simon cuts the floor timbers using the small band saw. It has no extractor, so the dry oak generates a lot of dust.
A view towards the aft. The frames are almost complete: floor timbers on top of the keel and beside them, the futtocks, one on each side. From here, the dinghy's ample form can be clearly seen. It is its shape which gives it the ability to bear over 25m2 sail.
Ture marks up and cuts the upper edge of a futtock.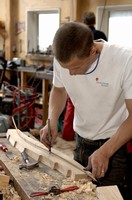 The frames are almost complete.
The gunwale, gunwale knee and beams for the ring deck are now in place.
Unlike the original boat, this boat will not be fitted with a wet well. However, the wet well funnel sits where it would have done and will be used to store gear instead.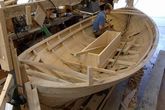 Simon adjusts a batten for the deck in the bow.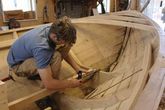 Ture and Simon get help from boatbuilder Morten Møller Nielsen, so that they can be finished in good time.
The deck is finished and there is a good amount of space available on board.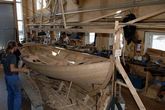 The dinghy is fitted with a ring deck: a small deck fore and aft and along the gunwale.
Here, the knees that will support the deck along the dinghy's sides are being adjusted.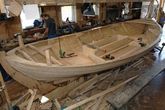 The deck is laid longitudinally where there would originally have been a wet well - where there will instead be a chest for storing gear - and laterally in the rest of the dinghy.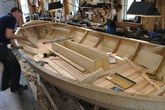 The thwarts are in and the ring deck is finished. The deck is laid on top of the gunwale and the uppermost strake edge. The fender moulding lies around the deck.
Like the deck, the ring deck is also made from larch.