- a local fjord dinghy
Boatbuilder Ture M. Møller and Simon Day Larsen built a 17.3 foot Frederikssund dinghy
One windy autumn day, the boatbuilders borrowed the new dinghy, Anaselma. They wanted to sail out and test the boat.
As you can see on the photo, the mast was slightly too thin. Afterwards, it was replaced with a stiffer, thicker mast.
The boat almost flew over the water.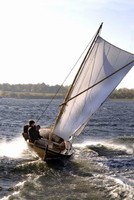 Both the main sail and foresail are reefed.
The 17 foot dinghy has plenty of room for 4-5 crew.
However, even in fresh winds, it can be handled by two men (with enough experience!)
The Frederikssund dinghy's sharp lines below the waterline and ample lines above, make it both fast and seaworthy.
The freeboard on Anaselma 'sticks out' alot, as can clearly be seen here where Ture and Simon sit. The hull doesn't extend vertically downwards, rather it curves in and then down towards the keel. This creates a great amount of buoyancy, as can be seen on the images here.
It's a pure delight, sailing a dinghy like this!